LP Gas Hall of Fame honors 4 in front of record crowd
Event that launched 10 years ago brings notables and firsts
---
Nothing could stop them this time.
The LP Gas Hall of Fame welcomed four new inductees in front of a record crowd at the Omni Nashville Hotel in downtown Nashville, Tennessee.
The COVID-19 pandemic forced the event's cancellation in 2020 and 2021. But like many propane industry events this year, the LP Gas Hall of Fame induction dinner returned to its normal time frame – on the eve of the National Propane Gas Association's (NPGA) Southeastern Convention & International Propane Expo, traditionally held every April.
The latest class featured Doug Auxier of Auxier Gas; Richard Barker, formerly of Silgas; Nancy Coop of Cetane Associates; and Joe Rose, formerly of the Propane Gas Association of New England (PGANE). They joined 40 inductees whom LP Gas magazine has honored since the event launched 10 years ago.
"Our four inductees have been waiting at the doorstep of the Hall of Fame. They were ready to enter the Hall two years ago – but were denied by the pandemic," said Brian Richesson, editor in chief of LP Gas. "Finally, the spotlight is shining brightly on them tonight."
The evening brought notables and firsts for the LP Gas Hall of Fame. In front of more than 180 attendees, the Hall honored its first woman as Coop joined her late father, Casey Jarvis, as an inductee. LP Gas inducted Coop for her role as the founding chair of the NPGA's Women in Propane Council – and Jarvis in 2014 for his revolutionary designs of propane delivery vehicles.
Auxier continues to advance his family-owned retail operation in Batavia, Ohio, while having supported the U.S. propane industry for more than 50 years through his involvement, strong leadership and information sharing. Barker spearheaded the construction of an underground propane storage cavern in the 1970s to alleviate supply challenges in the Midwest. Rose, the former president and CEO of PGANE, advocated for propane and united a six-state region for about a decade of his near 40-year industry career.
Steve Kaminski, the president and CEO of NPGA, was a special guest, addressing attendees during the program.
Nominations are now open for the 2023 class and can be made here.
THE INDUCTEES
Doug Auxier
Ohio propane marketer Doug Auxier has provided the industry with a strong voice and commanding presence for more than 50 years. "He's one of those guys who when he stands up and starts talking, you tend to listen," says Joe Buschur of McMahan's Bottle Gas, who nominated Auxier for the honor. Auxier has been active in the propane industry at the state and national levels. He was president of the Ohio Propane Gas Association in 1988-89 and, as Ohio's state director with the National Propane Gas Association (NPGA), he was recognized as State Director of the Year in 1992. The award honors recipients for excellence in communication, work with NPGA committees and meeting attendance. One of Auxier's most satisfying industry efforts came in the mid-1990s when he co-founded and served as the first chairman of the old Midwest Convention. His leadership in the industry continued at the national level as he chaired NPGA committees focused on safety and market development. He went through the chairs and ascended to NPGA chairman in 2003-04. Auxier also served on the Propane Education & Research Council from 2005-10. He was part of a council that was beginning to find a big-picture voice after its formation in 1996. Auxier worked for the family business at a young age, taking it over at 29 when his father was killed in a propane accident. He remains owner of Auxier Gas and resides in the Cincinnati area.
Richard Barker
Silgas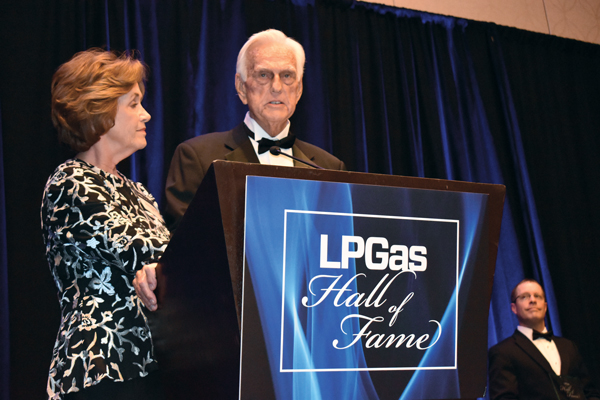 Having an underground propane storage cavern named in his honor puts Richard Barker in a unique category. Spearheading the project for a rural, independent propane company in Indiana helped to make product more readily available for marketers in the high-demand Midwest region. It also helped to one day cement his propane industry legacy. Propane customers within a 250-mile radius could obtain product from Silgas' underground cavern in Seymour, Indiana. Completed in 1979, the cavern could store 21 million gallons of propane in an expanse of 10 acres. Barker sought the project after determining a 1.2-million-gallon aboveground tank farm in Seymour – which he designed – didn't provide adequate storage capacity amid an unstable energy environment. When the energy crisis hit in the 1970s, Barker was serving as general manager and president of Silgas. That event forced him to think differently about the company's operations. At its height, Silgas was wholesaling about 150 million gallons of propane a year for delivery to multistate retailers, to go along with its 18 million retail gallons. The company also developed standby plants for General Motors, Ford and other industries integral to the American economy. Barker was actively involved in the Indiana Propane Gas Association, conducting seminars for members on how to operate a propane business efficiently. Barker worked in the energy sector for much of his life. He joined his family's oil and hardware business at 20 years old, later working for Redigas and Petrolane. Silgas was sold to Star Gas in 1988; Inergy acquired Star Gas in 2004. At Barker's retirement dinner in 2005, Inergy unveiled the Richard R. Barker Cavern. Crestwood owns and operates the storage facility today. At 86, Barker resides in Sellersburg, Indiana, with his wife Donna.
Nancy Coop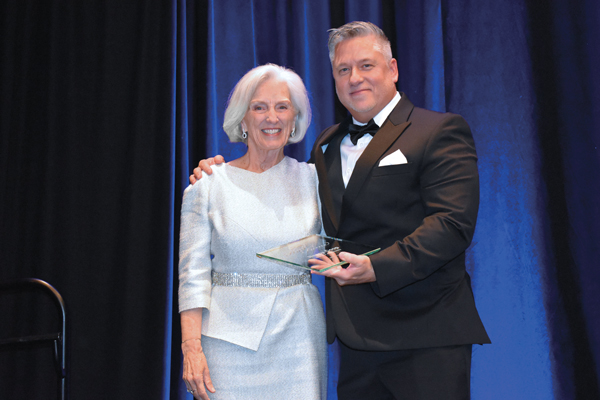 Nancy Coop has represented multiple sides of the propane industry, including equipment manufacturing, retail propane and association leadership. In every aspect of her career, Coop has been a strong and passionate ambassador for her companies and for the industry. Her most groundbreaking endeavor for the industry is her role as founding chairwoman of the Women in Propane Council, a National Propane Gas Association (NPGA) business council formed in 2012. Coop spent three years forming the groundwork, building support and establishing bylaws with a steering committee before presenting the creation of the business council to the NPGA Executive Committee for approval. She has continued her leadership on the council's executive board. The Women in Propane Council provides career growth opportunities for all members of the propane industry. It supports the advancement and success of women in every scope of business operations and professional development. The council, which has grown today to about 500 individual members, including women and men, conducts roundtable discussions and holds educational sessions and seminars at industry events. It facilitates a mentorship program and offers leadership training. Coop officially started her career in the propane industry in 2005 when she purchased Jarco Inc., a propane truck manufacturer founded by her father, LP Gas Hall of Famer Casey Jarvis, in 1959. Prior to owning and serving as president of Jarco, Coop advised and assisted her parents with the business. She sold the company in 2010 and became a business development executive for Ferrellgas. She now serves as a managing director with the financial advisory professionals at Cetane Associates. Coop becomes the first woman inducted into the LP Gas Hall of Fame.
Joe Rose
Propane Gas Association of New England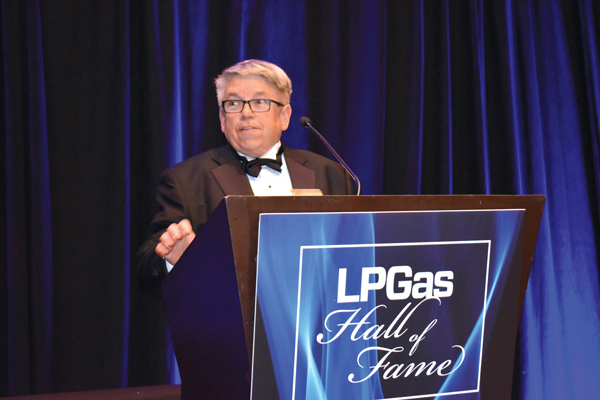 Of the more than 35 years that Joe Rose has spent in the propane industry, he devoted about a decade to leading the six-state Propane Gas Association of New England (PGANE). He retired as president and CEO of the association in 2017 but left his mark in a region unique to the propane industry due to its extreme winter weather, supply-and-distribution challenges and growth opportunities. Rose helped to unify and create value for members over the years through various initiatives. Under his leadership, PGANE improved communications and centralized its operations under one roof. He helped to launch the association's biannual Northeast Propane Show in 2010, offering valuable training opportunities for industry employees. The knowledgeable Rose, with a retail propane background, became the face of the association and the industry, effectively communicating with lawmakers and governmental entities to defend propane businesses against burdensome laws and regulations. Rose's approachable and unassuming manner endeared him to his members and to the industry. At the same time, he was never afraid to challenge the status quo at industry meetings and speak his mind on a key topic. He has been heavily involved in the industry outside New England, both with the Propane Education & Research Council (PERC) and the National Propane Gas Association (NPGA). He was a facilitator for NPGA's Benchmarking Council and serves today on the PERC council. A goodwill ambassador for Lin's Propane Trucks, Rose resides in Loudon, New Hampshire, with his wife Audrey.
---
LP GAS HALL OF FAMERS
CLASS OF 2022
Doug Auxier, Auxier Gas
Nancy Coop, Cetane Associates
Joe Rose, Propane Gas Association of New England
Richard Barker, Silgas
CLASS OF 2019
Ramon González Sr., Empire Gas
David Lugar, AmeriGas
Bill Mahre, Propane Technical Services
Ray Murray III, Ray Murray Inc.
CLASS OF 2018
Bill Clark, Butane-Propane News
Al Linder, Coast Gas
Stuart Weidie, Blossman Gas
Roy Willis, Propane Education & Research Council
CLASS OF 2017
John D. Capps, National LP-Gas Association
Theodore Lemoff, National Fire Protection Association
Darrel Reifschneider, Manchester Tank
William Young, Superior Energy Systems
CLASS OF 2016
Bill Byrne, Warren Petroleum Co.
Robert Y. Love Sr., Lampton-Love Inc.
Daryl McClendon, DFM Enterprises
Thomas Nunan Jr., Suburban Propane
CLASS OF 2015
James E. Bertelsmeyer, Heritage Propane
Stewart Kean, Utility Propane Co./World LPG Association
Glenn Miller, Miller's Bottled Gas
Charles Revere, Revere Gas
CLASS OF 2014
Casey Jarvis, JARCO Inc.
William B. McHenry, Pro-Gas Sales & Service Co.
Daniel N. Myers, National Propane Gas Association
J. Charles Sawyer, Sawyer Gas Inc.
Dwain Willingham, Propane Resources
CLASS OF 2013
Eugene V.N. Bissell, AmeriGas
Ronald "Zane" Chastain, LP Gas Magazine
William C. Hill, Pargas
Herbert V. Hills, Imperial Machine Products Co.
Walter H. Johnson, Liquefied Petroleum Gas Association
Robert B. Nicholson, Eastern Propane Corp.
CLASS OF 2012
Mark Anton, Suburban Propane
John Blossman, Blossman Gas
James Ferrell, Ferrellgas
Sam McTier, McTier Supply Co.
Robert Myers, Petrolane Inc.
Walter Snelling, American Gasol Co.
Milford Therrell, Squibb-Taylor Inc.
H. Emerson Thomas, Continental Tank Car Co.
John Wallace, Petrolane Inc.